Welcome to Gallery Dharsing.
Dharsing is the name of a Bhuddist banner used in Bhutan,
a sacred kingdom in the bosom of the great Himalayas.
From the backyards of farmhouses, on top of the hills and the precincts of temples,
"Dharsing"s send a simple prayer to the sky.
"Om mani padme hum--May all people be released from the cycle of reincarnation".
This sacred mantra, printed on the banner, takes to the wind and
prevails on the sky above the gentle, decent people of this country.
Gallery Dharsing presents beautiful handwoven textiles
and handicrafts from Bhutan.
---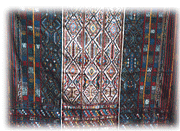 ---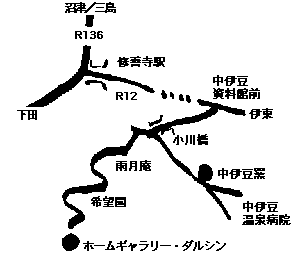 "Gallery Dharsing" is located in the heart of Izu Penninsula, 100km west of Tokyo, Japan.
Access :10mitutes by car from Shuzenji station on the Izu-Hakone line.
You can access it from Ito and Shimoda as well. For more detailed information, Feel free to give us a phone call or send email.
You are always welcome at "Dharsing". If you would like to visit us, please let us know in advance.
Gallery Dharsing
Mrs. Yachiyo Yamaguchi
1573-2, Ogawa-Yamada, Kamisiraiwa, Izu-shi, Shizuoka-ken JAPAN 410-25
Phone/Fax : 81-558-83-0402
E-mail : dharsing@isis.ocn.ne.jp
---
This website is created and maintained by
Twin Fish Graphics